The Royal Visit
We were invited to do a painting demonstration for Prince Charles.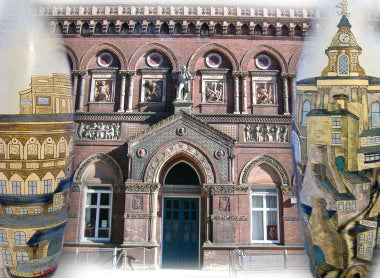 Royal Visit
The Prince's Regeneration Trust 'works to protect, preserve and celebrate our heritage buildings" and it has been achieving that at Middleport Pottery, the home of Burleigh.
As a consequence, HRH Prince Charles has made several visits to Middleport, in his role as founder of the trust. Prince Charles seems to have taken quiete a shine to Burslem, and clearly admires the ancient art of the potter.
On a visit in May 2013 he met with Tracy Bentley and Steve Shaw, at a demonstration in the Victorian architectural masterpiece the Wedgwood Institute. Tracy and Steve explained the techniques and skills needed to produce Burslem pottery pieces.
Steve described the way designs are handmade and hand-drawn onto a vase, and Tracy demonstrated how the paint is applied, before helping Prince Charles apply the stoneware glaze to a vase.
We would like to thank Alastair Fyfe for taking such wonderful photographs and for helping us to clear the images for use on this website.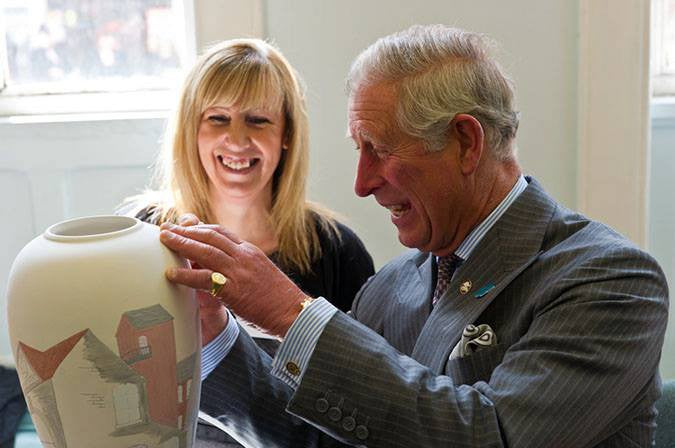 Price Charles Painting
Prince Charles painting
Prince Charles under the watchful eye of Tracy, having a go at Stoneware painting. Stoneware painting with glazes is really difficult and the Prince was worried he was spoiling the vase, but he had no need to worry he did a really good job painting the image of Middleport pottery which as become the home to The Great Pottery Throwdown on BBC television.